"Predictive analytics (PA)—Technology that learns from experience (data) to predict the future behaviour of individuals in order to drive better decisions."
― Eric Siegel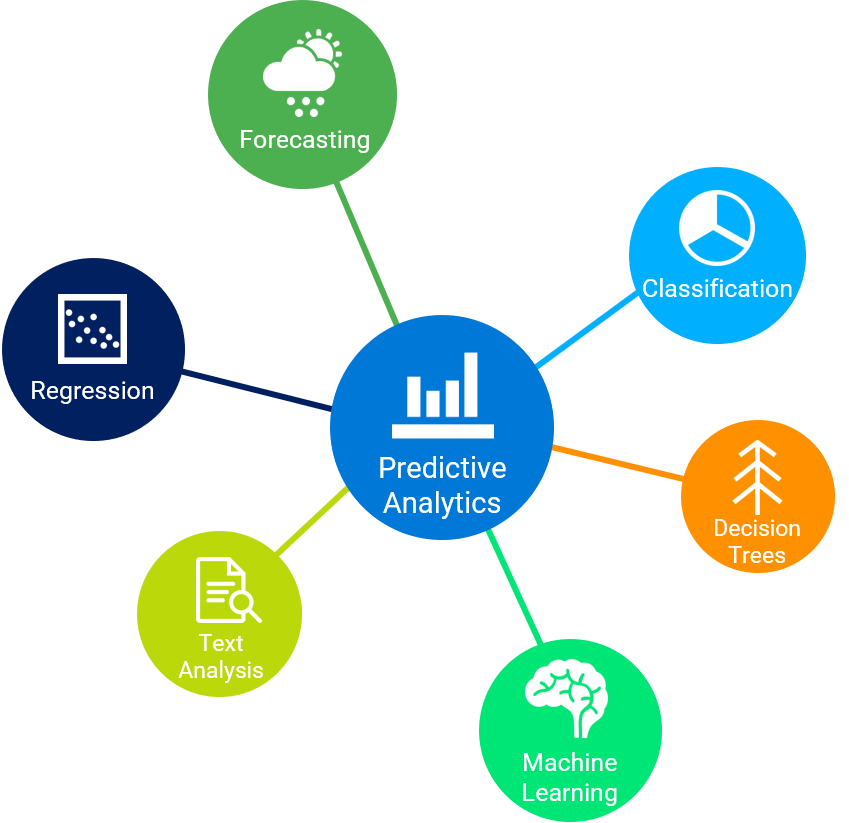 The use of statistics, empirical algorithms and machine learning techniques to identify the probability of future outcomes based on historical data is predictive analytics. The primary objective is to go beyond understanding what has happened in order to provide a better evaluation of what will happen in the future.
Tools for predictive analytics
1. EverString
For millions of B2B accounts, EverString provides data curation and visualisation. To create an actionable database, all this information is combined with the site usage information and existing customer profiles. Basically, you say EverString what you are looking for and the app establishes matching consumer segments with the most likely to turn accounts and contacts.
2. Infer
The predictive modelling of Infer puts all of your data sources together to provide a full image of the location of a lead in the sales funnel. The business records a three times higher average conversion rate than the norm for their accounts. Infer tracks signals and public information from online outlets, then generates predictive models based on previous main accounts and rules you define.
3. Halo
Halo is a data analytics and analytical tool built within a business intelligence framework, specifically developed for supply chain management. To develop "what-if" modelling for smarter supply chain optimization, Halo's predictive features use comparative analysis of existing data.
4. BOARD
BOARD's predictive modelling based on rules is designed around a responsive interface and live dashboards that update the data immediately to represent changes. That means that without having to build a new model each time, you can plug in various scenarios and analyse the potential consequences of those scenarios.
Analytics for the Data Scientist
SAS Advanced Analytics
This business controls 33% of the market for predictive analytics and has 40 years of experience. The business grew from code-based analytics that were soiled to visual self-service editors in various departments that bring advanced data analytics to beginners. Main characteristics include:
Automatic and time-based rules
Predictive analytics in healthcare
Owing to the exponentially greater complexity of evaluating the variables that lead to human health versus predicting which ballplayer will produce the best run output, healthcare has lagged other industries. But today due to the transition from paper charts to electronic health records (EHRs), along with the exponential growth of computing capacity and storage, a combination of large quantities of data now available has made it possible to predict the treatment actions, medications, equipment, etc that will yield the best results.
Consider self-paying patients, a group that, thanks to advancements such as high-deductible health plans (HDHPs), is rising rapidly. The level of risk immediately increases when a patient comes to a provider and poses as self-pay. After all if they make a clean application to a health payer, hospitals, labs, physician practices and so on are extremely likely to be reimbursed.
For specific patients, not so. But with predictive analytics, through its predictive models, the provider can run the patient's data and calculate the probability that the patient will pay his or her part. Equipped with this information, suppliers may take measures to help them eradicate this very common source of bad debt, such as collecting from patients up-front.
It is also possible to use predictive analytics to ensure that providers collect all the fees from payers they are entitled to through searching for missed charges. For example, the charge for a pacemaker device may be omitted from a claim, even if it contains the charge for the procedure for inserting the device.
Predictive analytics algorithms
Do you know what your personal credit score, Billy Bean from the movie Moneyball, the Oakland Athletics baseball team manager, and your Match.com profile have in common? In order to predict the future, they both mix big data and predictive analytics.
Analytics of predictive data are everywhere. It is a technology in its nature that learns from existing knowledge, and it uses this to predict individual actions. Similarly, in order to predict whether or not you will pay back the loan you choose to take out on your new vehicle, your personal credit card score uses historical data from millions of people in the past.
But how are these predictive analytics operating? A collection of different statistical (data mining) techniques that analyse historical data and findings are used in predictive analytics. These methods then attempt to construct a formula that better mimics these historical results, or an algorithm.
Several different models and algorithms are driven by predictive analytics techniques that can be applied to a broad variety of use cases. The secret to getting the most out of a predictive analytics solution and using data to make insightful decisions is to decide what predictive modelling techniques are best for your company. Consider a retailer, for instance, looking to minimize customer turnover. The same predictive analytical models used by a hospital that forecast the number of patients admitted to the emergency room over the next ten days does not represent them.
Predictive Analytics in HR
To predict future events, predictive analytics uses historical data coupled with current trends. Predictive analytics helps HR teams to make predictions about areas of the entire HR function in the sense of HR, from an employee's cultural fitness, their likelihood of staying active in the job, their capacity to up skill and stay important to the sector in which they work, and their likelihood of spending a certain amount of time on the job, to name a few. Through assigning a score to the various areas that need to be calculated, predictive analytics helps quantify qualitative data, showing the probability of an event occurring.
How is predictive analytics used in business
Predictive models are made using the available data. The models can be used for various purposes such as predicting values of new data. This type of modelling gives business a chance to predict the probability of a desired target let's say revenue from the estimated input variables.
Classification Model and Regression model are the two types of predictive models.
The Classification model is used to assume the class membership that means, suppose you'd like to know whether someone is likely to leave or whether the person is a bad credit risk etc. All in all it produces results in Yes or No form. The result is usually in form of 0 and 1, where 0 meaning NO and 1 meaning YES whereas the Regression model is used for predicting a figure such as revenue generated by over next year or month if there's a machine component fail. Some of the most used modelling techniques are Neural Network, Decision trees, and regression.
NEURAL NETWORKS
This technique was developed by the researcher who were mimicking the human brain neurophysiology. They are used for modelling complex relationships. Their effectiveness and flexibility make them so popular. It can handle nonlinear data relationships which is used for confirming the finding of Regression and decision trees. This technique is based on AL processes and pattern recognition that is turned into graphical model parameters. It can be applied even when there is no mathematical formula available for the values of the input, much is depended on prediction and training of data.
DECISION TREES
If you're looking to interpret data with many missing values then you can start with the decision tree model. These are the classification models that bifurcate on the basis of categories on input data into subsets. This helps us in understanding someone's decision path. the model is in the form of a tree whose branches represent choices between number of alternatives, and the leaf represents the decision. The model tries to find the variables that split data in distinct logistic groups. Their easy interpretation and comprehensibility makes them so popular. They are perfectly suited for preliminary selection of variables as they handle well the missing values.
REGRESSION
(logistic and linear)
This one is a very popular method in statistics. It used for estimating variable relationship. If there is some kind of pattern that can be assumed in the dynamic set of data then linear model is preferred. In a large set of data it is used for identifying specific factors such as price, availability of input etc. With Logistic regression we try to predict a number which will be a response also known as the Y- variable. One variable is used for predicting Y's outcome.
Using one or more independent variable multiple regression used for predicting values.. In binary logistic, the response variable varies between 0 and 1 are just like neural networks whereas in multiple linear regression a Y variable has several levels – high (3), medium(2), and low(1).
Is predictive analytics a machine learning
Often people mistake Predictive Analysis for Machine Learning or even consider them as one. Yet Predictive Analysis and Machine Learning are quiet distinct fields and here's why-
AI has been a new buzzword around the business world for quite some time now. To date, businesses are racing to implement AI in their firms. This technology is vastly used for data analysis, cloud services, improved computing, and so much more. The applications are so many that entrepreneurs find themselves caught up amidst confusion of what to implement and what not? To get maximized Returns on investment.
Machine learning and Predictive Analytics are used to satisfy such needs. They help in extracting relevant data and insights about the market, clients and the business.
Though predictive analysis works on the lines of machine learning yet they're varied terms with different potential.
Machine learning– It uses the AI methodology to process data without pre-stated rules. It used to make assumptions on a set of input data tests and learn automatically from it. For example- Machine learning can be used for differentiating between malicious comments, links and spam, and positive comments on any platform and after analysing them can give the inferred data on the communities' discussion page.
Predictive Analytics is more static and doesn't respond dynamically as compared to machine learning. If there are any changes in the parameters it had to be done manually by the data scientist in predictive analysis.
Both the branches of AI hold immense potential apart from the stated differences. They can be adjusted to the scale of the project to achieve the project goals.
How is predictive analytics applied in Moneyball?
Based on variables such as weather models and expected demand, brick-and-mortar retailers use it to assess inventory levels. It is used by companies such as Amazon and Netflix to provide recommendations for additional items that you would like. Even sports franchises use it to predict players' future success, which was most notably portrayed in the Moneyball book and film.
Today, as they make the transition to value-based care, healthcare providers and payers have started using predictive analytics to support them with clinical issues such as public health management and closing care gaps.
What is predictive analytics quizlet
Quizlet is a resource centre which provides a ready made set covering a vast variety of topics including Predictive Analysis. It has features like flashcards, learning process, writing process, spell check, and test series combined with creative idea games which involves matching the flashcard with the terms and much more.
Where predictive analytics is having the biggest impact
Demand predicting– The first case of usage involves forecasting demand for consumer goods in the "long tail" of consumption. Since inventory is costly to maintain on shelves, and stock outs are counterproductive to both short-term sales and long-term consumer loyalty, businesses value reliable demand forecasts.
Data for the growth of a stronger line-up-
Providers currently appear to rely on rules-based technology that states that if A and B occur, then C should occur. "One such case, using our previous example, might be if a charge for a software insertion is on the claim, there should be a charge on the claim for the device. The law will, however, need to be precise enough to apply the pacemaker insertion process to the pacemaker system in order for this to happen. The missing pacemaker system may be stuck by rule-based technology.
If the claim contained a low-dollar charge for a lead-wire system, while still excluding the high-dollar pacemaker device, the rule may be fulfilled. The rule was fulfilled in this situation, but reimbursement for the pacemaker system is still lacking from the supplier. Not a wonderful scenario for the providers.
Rewriting the guidelines-
The other great benefit of predictive analytics is its versatility, especially in combination with machine learning. Healthcare is an incredibly diverse sector, unlike retail and manufacturing; every human being varies from every other human being and awareness and treatment improvements are continuously taking place. What is real, or best practise, might not be three months today, for the time being.
For success-
The reality of the phrase "the past predicts the future" has been discovered by many industries. Now it is the turn of healthcare finance.
Healthcare companies can use predictive analytics to help them boost financial efficiency by lowering costs, eliminating bad debt, and charging properly and fully for their services by developing algorithmic models that use historical data to predict results, and comparing those responses with the actual known results. And that's a run at home.
What is predictive analytics in machine learning
Every company seeks to expand. But by data-based decision making, only a handful of businesses who effectively renew this vision do so. And businesses have been using machine learning-based predictive analytics to make these educated choices.
PREDICTIVE CAPABILITIES BUILDING USING MACHINE LEARNING AND ARTIFICIAL INTELLIGENCE
In an everyday predictive case, let's implement what we have learned about neural networks. For instance, We want to model a neural banking system network that predicts the risk of debtors. We have to construct a recurrent neural network for such a problem, which can model patterns over time. Colossal memory and a large amount of input data are needed for RNN. Data sets of prior debtors will be taken into the neural system.
Age, sales, existing debt, etc. may be input variables and provide the debtor with the risk factor. We also save a collection of our intermediate calculations each time we ask our neural network for an answer, and use them as part of our input the next time. That way, based on the data it has seen recently, our model will change its predictions.
USES CASES FOR MACHINE LEARNING BASED
PREDICTIVE ANALYTICS
When machine learning and the landscape of artificial intelligence grow, predictive analysis makes its way into more cases of business use. Business executives can make sense of big data in combination with Business Intelligence (BI) resources like Domo and Tableau.
Some of the use cases for predictive analytics based on machine learning are explained below:
1. E-commerce
Predictive analytics backed by machine learning algorithms will assist retailers to understand the actions and desires of customers. E-commerce firms can efficiently position product recommendations and offer to optimise sales by observing search trends and click-through rates of specific items.
2. Support to Customers-
Almost every predictive analytics programme has the primary objective of delivering superior customer support. In customer segmentation, the insights generated by predictive analytics support. Segmenting consumers based on their responses and purchasing habits will further assist companies in designing marketing campaigns customised to the features of each category.
3. Diagnosis of Medicine-
In the area of healthcare and medicine, predictive analytics has a broad application scope. Patient symptoms can be analysed easier by training algorithms with broad and varied data sets. This will further assist in a quicker and more precise diagnosis being provided.
4. Marketing and Distribution-
In B2B marketing, there are several applications of Machine Learning. Identification and acquisition of prospects with characteristics close to current customers is one of the most common use cases. Based on their probability of taking action, ML-based predictive analytics may also prioritise established opportunities, leads, and Accounts.
5. Financial Services-
To identify and prevent fraudulent transactions and activities, finance companies rely heavily on intelligent algorithms and analytics. Predictive analytics scans historical datasets and recognises areas of risk so that businesses can make risk prevention/mitigation choices.
6. Cyber security —
At any moment, cyber attacks can hit any organisation. Cyber-attacks can now be anticipated and avoided thanks to sophisticated statistical techniques like predictive analytics. In a short time, machine learning algorithms process unimaginable quantities of both structured and unstructured data. Being able to analyse traffic in real-time to continuously detect suspicious trends helps businesses fend off threats before any possible damage is done.
Solutions for predictive analytics come with intuitive and simple to use customised interfaces. Each organisation has unique requirements, and it is important for a good result to select a tool that is specific to fulfil that business requirement. HR teams are likely to spend less time assuming what the general mood in the enterprise is with predictive analytics, and can instead focus on actual data to take action that will generate positive business performance.